Phang Nga Bay – Exploration of Miraculous Islands
|
Phang Nga Bay has many islands that add beauty and attraction to it. Amongst these amazing Islands, James Bond Island and Koh Panyee cater most of the tourist traffic and are popular amongst the visitors. The other small Islands also hold their exquisiteness in scenery, limestone caves, ancient carvings and distinctive rock features.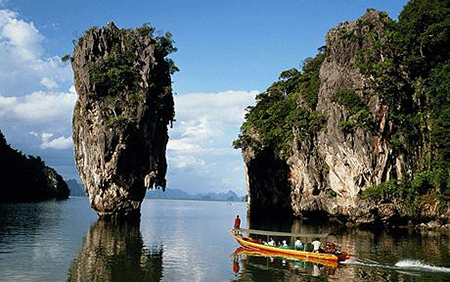 The limestone formations standing tall in the mid of green waters of the Phang Nga Bay, defying the rule of gravity are the identity of this place. They look spectacular while you take a boat ride exploring the islands around the place. If you have hired a tour boat than for sure it will take you to the James Bond Island first and the story of the James Bond Movie which was shot at this island will be the highlight of the visit. No doubt this place is stunning but there are other less populated mesmerizing islands of the Phang Nga Bay waiting to be explored.
The water is calm throughout the year and this provides tourist a great place for boating. In my view, boating is one of the best ways to explore the Phang Nga Bay. You can have scrumptious lunch at the Koh Panyee Village and discover the hongs of Phang Nga while kayaking or sailing around. The limestone cliffs with the geological effects and formations clearly visible on huge stones are the eye catching features which one can only experience in this part of Thailand.
The other small islands around can be reached by the inflatable kayaks available on rent and a professional is always ready to accompany you as a guide. What you can expect from kayaking to these small islands is a magnificent scenic view, sight of the ancient carvings on the rocks; chance to observe the small fisherman community lifestyle, traditional village life, quiet beaches, calm water, peace in the middle of the sea, gentle waves, mysterious Hongs and picture perfect surrounding. It is advisable to make a complete day plan and visit these miraculous Islands of the Phang Nga Bay as proper accommodation is only available at the large Islands and due to tourist rush, sometimes it is difficult to get a good place to stay there.