Koh Kaew – Island with Foot Print of the Buddha
|
The island Koh Kaew comprises of Koh Kaew Noi which is a good place for kayaking and snorkeling activities. Koh Kaew Yai on the other hand is larger and has a beautiful beach which provides a nice swimming spot. You can get to these islands by the local long tailed boats which are ready to give you a tour to the small islands around Phuket.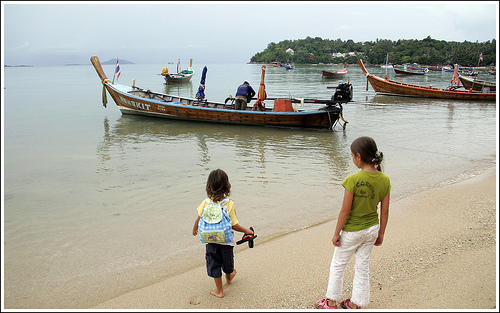 The place is famous for the Lord Budha's foot print preserved on the Island. The spiritual importance of the island has made it an important destination for the tourists who wish to spend a peaceful time in an inexpensive surrounding with a good swimming experience too. There a few bungalows at the island which can be rented but no proper accommodation are available. For this reason it is advisable to pay a half day or a short visit to the Island.
When you are travelling towards the Koh Kaew Yai, you can easily see the huge golden Buddha statue coming closer and being clearer in view. The water is calm but the beach is not so clean. There is some population of the monks who live a simple life in the woods. There are a few small shrines on the way to the big statue which is a mesmerizing sculpture. You are allowed to take pictures but showing some courtesy to the monks is important.
On the north tip of the island is another shrine but you have to be very careful of the steep slippery rocks. If the weather is favorable and you manage to get to the top, to your amusement you will find the "foot print of Buddha". It is said by the legends that the great Buddha visited this island before moving to the mainland at Rawai. For this reason the Island holds importance in terms of Buddhism and it is said that monks from different areas come to pay visit and stay for a while at the Koh Kaew Yai Island.