Similan Islands – A Topographical Treat
|
The attractive Similan Islands are counted amongst the ten of the world's most interesting diving sensations. There are nine Islands in the Similian group with low lying formations and gum trees plantations along with large ironwood trees.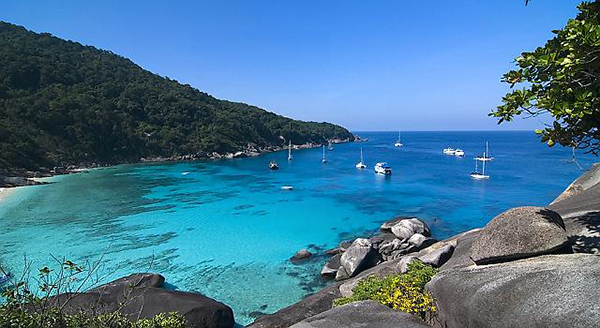 When you reach the Island the irregular, artistic and natural arrangement of huge boulders welcome you and serve as a striking feature of the Island. The amazing coral beaches of the Similan Islands accumulate an impressive and magnificent collection of coral growth. The topography of Similan Island is very interesting. In the past this Island was under water. The fluctuations in sea level along with the other natural forces gifted a fascinating land shape to the place. The huge stones, sculptural formations by hot magma, waves and winds along with the collection of gigantic stone piles make this Island different from others.
The underwater world of Similans has an assortment of marine life and variety of coral collections along with a diverse range of bottom topography which make this place the best for the divers. Other attractions of the Similan islands are the coral gardens, shallow water snorkeling, sponges, forest exploration, sailing, scuba diving. Underwater visibility of the colorful fishes is a great attraction for many tourists.
You can easily be guided about the activities and professional tour planners are available to help you plan your tours. Some customized tours are also offered and you can tailor the activities according to the time you are ready to spend at the Island and the interest in activities. You can charter a boat or just hang around in a traditional boat which is less expensive but at the same time less reliable too. Besides the hotels and resorts you can also chose the tents and bungalows available for rent.
When you visit the Island, make sure the National Park is not closed as it is normally closed from May to October. Also check the weather updates as heavy rainfall can ruin your activities and planning. March is the best time to visit the place as the water is clear and the winds are smooth.