Koh Yao – A Group of Untainted Islands
|
Koh Yao is a pair of two less developed and untainted Islands near Phuket which offer a different set of living in compare to the other Islands around Phuket and Krabi. The Islands named "Ko Yai Noi" and "Ko Yao Yai" are the small islands which receive a low traffic of tourists and are not much developed. You will find internet facilities and some nice places to stay back but there is no modern architecture, lavish hotels, shopping arcades, flashy night life or banking facility available.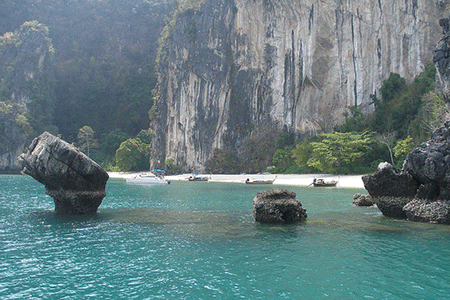 This makes "Koh Yao" different and attractive for people like me. I always wished to see the life of an Island which is close to nature and has the peace and tranquility that one expects at the land surrounded by water. The pace of development in these Islands is accelerating but still you can see the true glimpse of tradition and nature.
In a long tail boat you can pay a small visit to the "Koh Yao Yai" and then continue your journey to the "Koh Yao Noi" which is approximately a 10 minutes ride from "Koh Yao Yai". Here you can expect a journey on calm roads with rubber plantations on the sides, wooden houses, puddles acting as natural buffalo mud baths, mangrove trees in the sea giving a lovely composed look, agricultural activities, fishing and beautiful natural environment.
It seems as the time has slowed down its pace and you are on the island with your friends and family with no stress or pressure in a pollution and hassle free environment to relax. Hire a tuk-tuk to take you to the beaches on the east of the island and if you wish to see the rice fields, agricultural activities and mangrove plantations than first take a small trip to the west coast of the Island. Besides this "Koh Yao Yai" offer you activities like snorkeling, swimming, kayaking and hiking. Ask your hotel or a local shop around to offer you a kayak for rent and enjoy a marvelous and spectacular sightseeing.