Top Interesting Things to Do In Bangkok
|
Bangkok has something for everyone! I really enjoyed my trip to one of Asia's most spiritual place which is rich in culture and hides a lot of beautiful places, glorious temples, floating markets and magnificent activity spots. You just need to do the right things in Bangkok to enjoy it full. Paying a first time visit and just staying for a day or two is not going to do justice to the city, you should at least plan for a three days stay and I am sure you will still wish to come back for more of what Bangkok offers.
There are numerous activities and a long list of wonderful places I don't want you to miss when you visit Bangkok, so here is a list of top interesting things to do in Bangkok and some suggested places. You can choose the places of your interest from a good mix of spiritual, cultural and amusing activities and start your journey to explore the fascinating sights and architectural beauties.
Grand Palace & Wat Prakeaw: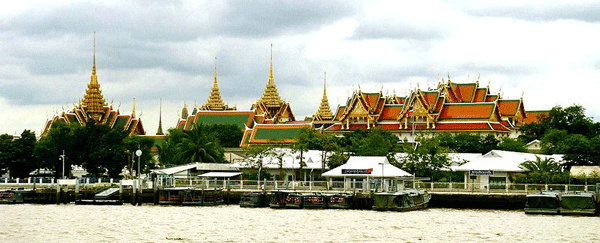 If you have a taste for historical places with beautiful architecture that Grand Palace is worth watching sight. It was built in 1782 and the main attraction of this place is a pedantically carved Buddha image from a block of precious stone of emerald.
Klong Tour in Bangkok:

If you wish to feel the real soul of Bangkok, than explore the city's past and how the people traditionally live in Bangkok by taking a Klong tour of the river in Thinburi. On your way in a long tailed boat, enjoying the canal ride, you will see how the natives live in the wooden houses by the side of water. Trading boats which are full of fruits and other day to day stuff are floating by peacefully, making your tour enjoyable. You will be able to notice the difference in the traditional life on this side of the river and the modern life on the other.
Chinatown Market:

Enter the Chinatown market from the remarkable Chinese gate and give your taste buds a treat of the reasonable and delicious food from the city. It is a crowded area and not much developed but the traditions and culture of the Chinese community is preserved in this area from ages. It is a tourist attraction not just for the wonderful food available but also for its gold shops and fabric markets. If you have not visited any temple today, than Chinatown provides you with a great chance to pay a visit to the Golden Buddha Temple which is a famous tourist attraction.
Siam Square:

This place is a hub of trends, creativity and fashion. Being the posh place of the town you will find a very original atmosphere and hangout place for the young people and university students. The open air shopping complex, with bright and trendy outfits, artistically designed clothes and inspiringly tailored suits makes this place a happening point of the Bangkok city.
Skytrain:

In the list of things to do in Bangkok, add a safe and cheap mode of travelling to avoid traffic jams and unpredicted delays in your daily schedule. Skytrain is an easy way of transport if you book a hotel which is near the station. You can easily reach near your destination in no time and take a motor bike taxi to take you to the exact place. BTS is the name given to the Skytrains in Thailand and they are also linked with the other railway systems available. Taking the Airport link to get off from the airport and taking a drop at the interchange station with the BTS can just not save the traveling expenses but will also save you from the traffic havocs in the city.
Flow House Bangkok: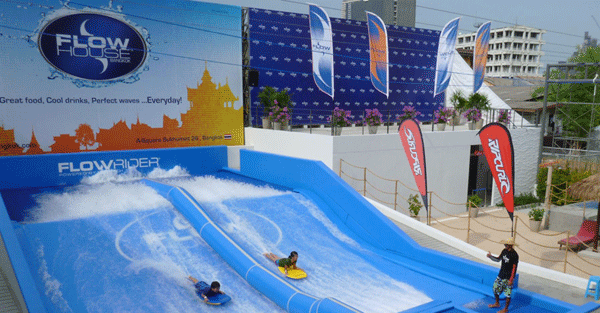 Are you a sports lover? Wish to spend an adventure filled time with friends and family? Than this place is a great choice. Simulated waves surfing machine-Flow rider, featured by ultimate urban beach club along with a restaurant, fully air-conditioned rooms, locker facilities, plunge pool and a sports bar is an unforgettable experience. You can reach the place easily via BTS and enjoy state of the art activities.
Dinner Cruise: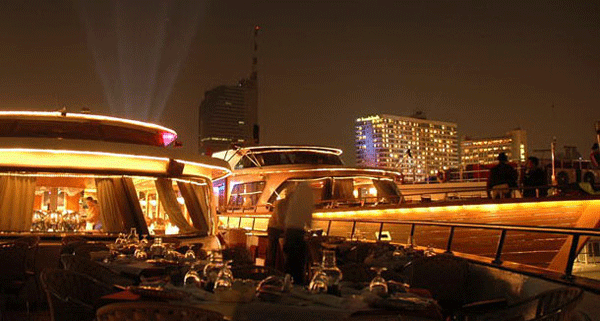 Give your day a perfect end by choosing a mesmerizing dinner sight.  Chose a luxurious cruiser or a simple wooden boat and go on board to enjoy the golden sky and magical sunset. Experience how the busy life slowly changes its pace along the riverbank and enjoy your dinner in a romantic candlelit table with the fresh breeze and mystic sound of the waves. This peaceful and idealistic dinner will surely be a part of your treasured moments.
The Giant Swing at Wat Suthat:

Originally built in 1784, the Giant Swing was replaced in year 2004 with a hand carved wooden structure and a complexly designed construction process. Several other parties and civil engineers were involved in the procedure. This Swing is 21.5 meters in height and stands high between Wat Suthat and the City Hall Bangkok. This swing was built to thank God Shiva for a good harvest of rice and the followers used to swing high while grabbing silver filled bag. It's a surprising ancient sight and must watch while you travel to the other tourist destinations in Bangkok.
Bangkok Shooting Range:

For me this place was a great experience. I had a real gun in my hands for the first time and tried shooting from a pistol, rifle and a revolver. The amazing visit at the Bangkok shooting range will provide you with an interesting shooting experience in a safe environment. You can reach here via a BTS and they even provide a pickup service. The price paid is worth it!
Snake Farm:

Is Wildlife an area of your interest? If the answer is "yes", than your visit to the snake farm will be a highlight of your trip. It can turn out to be a highly educational visit with the professional guidance around you. The admission fee is reasonable and there are about two snake shows daily. You can experience the live snake show and venom extraction which is an amazing watch. Anti-venom serum for the snake bite is produced by the Thai Red Cross Institute where the snake farm is located.
Siam Ocean World:

Siam Ocean World is one of the top Marine life attractions in Bangkok. If you have children on board, I would highly recommend you to add this visit in you things to do in Bangkok list. The ocean world is situated in the Siam shopping center and can be accessed easily by Metro. The colorful environment and a vast assortment of marine life, ranging up to 30,000 creatures will keep you spellbinding. A 270 degree glass tunnel with a glass bottom provides you with a view of the amazing fishes and marine life creatures moving under your feet. My visit was incomplete without the photography session with the fishes and the 4d show we experienced afterwards. You better have a plan of at least 2 hours in order to enjoy the activities at the Siam Ocean World.
AIS 4 DX Theater: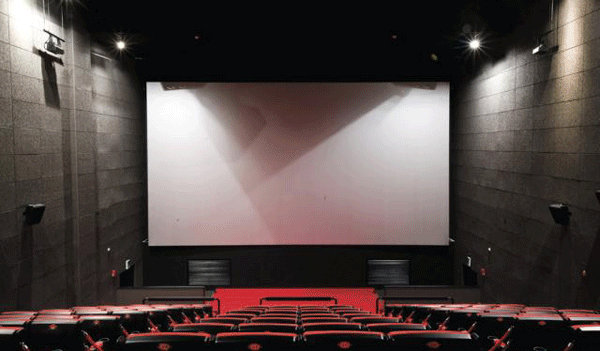 I had no such plan of going to a 4D Theater but our taxi driver forced us to give it a try. WOW! Was my reaction and I was simply surprised by the superlative movie affects. The price was worth the experience. Kids with me enjoyed the most and we were crazily moving with our seats in some scenes. If you staying in Bangkok for more than two days and are tired after the whole day adventures, go and visit the 4D Theater and get refreshed!
The Golden Mount Temple:

A friend of mine recommended me the visit to this religious temple which known for its golden huge structure and a nice view of the city from the top. For this you have to carefully climb up the series of stairs. This workout will pay off when you reach the top and see the huge drums, gongs and the splendid city view. A few other temples are within the walking distance so you can plan visits to different nearby places along with a boat ride experience at the nearby Klong.
Visitors and tourists are advised to take care about the dress codes of certain tourist attractions in Bangkok. Due to the religious practices and the holy sites, T-shirts, short tops and shorts are not allowed and may result in rejection of admission.